One of my sorority sisters left me a comment with an idea for a post about what I would buy if I had $500 for Spring and I loved it! Plus I am wearing a repeat outfit today so it gives me something to blog about : )
I tried to make all of my suggestions things you could get online. I'd love to use H&M but I know they don't have one everywhere.
So here is what I would get for Spring if I had $500 burning a hole in my pocket
This colorblocked sweater from Old Navy is adorable. I ordered in a small. Great deal at $24.94
These white jeans are a little pricey at $164, but white jeans are a must have for Spring and I think good denim is worth it as it will get a ton of use. I love this Ava cut from Citizen's of Humanity, you see mine in regular denim on me about 3 days a week. I think the leg on these is actually slimmer than it looks on the model, but maybe it is just my athletic calves.
I haven't seen this dress in person, but I am definitely considering ordering it. You could dress it up with heels, or down with flat sandals and a cardi. A great deal at $40 from JCPenney
I've always been a sucker for seersucker. Nothing better than a lightweight blazer to pull your look together for Spring and you can get this adorable one from F21 for $32.80. I would wear with jeans or navy pants, a white blouse, and red shoes.
And if you are lucky enough to be somewhere it is hot during the Spring, I would definitely pick up these hot pink shorts from Express for $49.90. I have a few pairs of these shorts and I find them to be the perfect length and a great fit. You could wear with just a t-shirt and flat sandals with a cute belt for day, and take them up a notch at night with a blouse, shrunken blazer and a hot pair of heels.
Here in the PNW, Spring sweaters are a must and this sweater will provide a little warmth while screaming Spring with a punch of yellow and fun stripes. $78 at Ann Taylor.
Of course a cute pair of wedges is a must for Spring and I tried these Target wedges on and they are adorable in person and very comfy. $24.99. I'm thinking these will be perfect to dress down my white or yellow pencil skirt.
A flat jeweled sandal is a go to Spring item for me as well (if it gets warm enough here!). Just as comfy as flip flops but so much more chic. Another Target buy at $19.99
I have few more favorite items than my red blazer, if you are looking for a great deal on one, try this one from Kmart for $29.99. Might want to pick the white up too! I have been very happy with previous blazer purchases from Kmart, though I have not seen this one in person.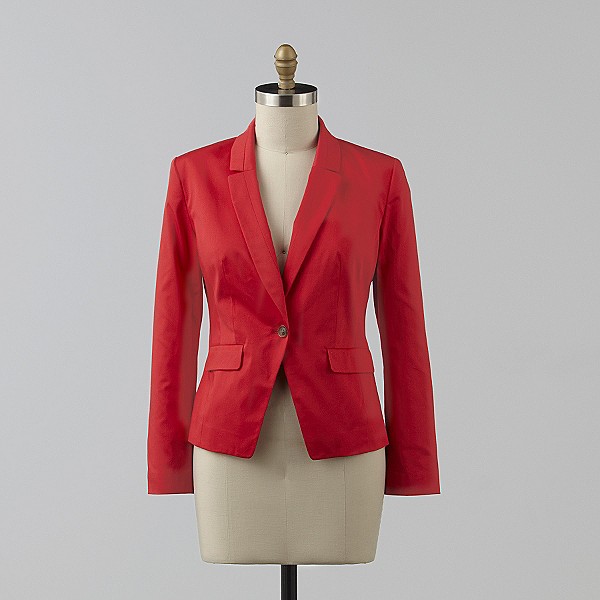 It is still chilly here in the Spring so a great trench coat to cover up is essential. Loving this purple one at NY&Co for $63 (includes current 30% 0ff discount).
Ok, so I went over my budget by $27, but I probably would make use of some coupons on some of things things to get better deals so we'll call it a wash : )
What is your Spring must have?
Thanks for the idea Carrie, this was fun! Anyone want to send me $500??