No outfit picture today, so going to be a bit of a random post. First a few links that I have found especially fascinating, and then some bargain fashion picks!
Read here about how LDL (a lipoprotein often referred to as "bad cholesterol") is "calculated", not measured, and the formula used actually rewards you for having high triglycerides, and can very easily provide inaccurate results. LDL (the small, dense kind) builds up not because of cholesterol, but because of inflammation – check out this article for some great info regarding what you should and shouldn't be worried about. And run screaming if the doctor tries to put you on a statin.
Looking forward to watching this movie, hoping it comes out on Netflix, called Farmageddon – click on link for synopsis. Also just ordered the book "Everything I Want to do is Illegal" from Amazon because it wasn't available on Kindle and am looking forward to reading. (click here for article by author that is a more comprehensive summary) Basically this movie and book discuss how the government organizations like the USDA and FDA are making it more and more difficult for small farmers raising animals and farming in sustainable ways to be successful. It scares me to think that it may get even harder to find things not fed GMO corn and grains, or covered in pesticides, in the future.  According to this new study, "contrary to conventional wisdom, organic farming outperformed conventional farming in every measure." Definitely looking forward to the grass fed cow we are sharing with some friends and picking up a few weekends from now at the 3 Sisters Farm. If you have a big freezer available (our friends our letting us keep our part in theirs) this is a great way to get very affordable sustainable and humanely treated beef, pork, etc.
And for those of you who are only here for the fashion, thank you for humoring me (or just completely ignoring the first half of this blog) : ) Here is another round of bargain picks!
Love the sharpness of this Old Navy blazer, but the softness of a jersey fleece knit – $ 39.94
Searching for an affordable mustard cardigan? Check out this one for $ 36.94
Loving the color and print on this blouse for $32.94
Chiffon in the front, knit in the back – yes please! $26.94
This is the faux fur vest I ended up getting from Express, not super cheap at $98, but a lot less than others I've seen and not "too furry"
Looking for an relatively affordable pair of skinny jeans that look great with heels, flats, or tucked into boots? And also tend to look great on a number of different body shapes? Give the Gap Always Skinny a try for $69.95, or as I would highly recommend, use a coupon and get them for less! I had a little Shopping Hiatus slip up and picked these up for $40 – I needed another pair that tucked into boots – I know, I am bad! Right now online only there is a 35% off coupon – not a bad deal.
And what would a bargain picks post be without the Target shoes I am currently lusting after. These cap toe leopard print almost flats are so cute – buy them Mom! $24.99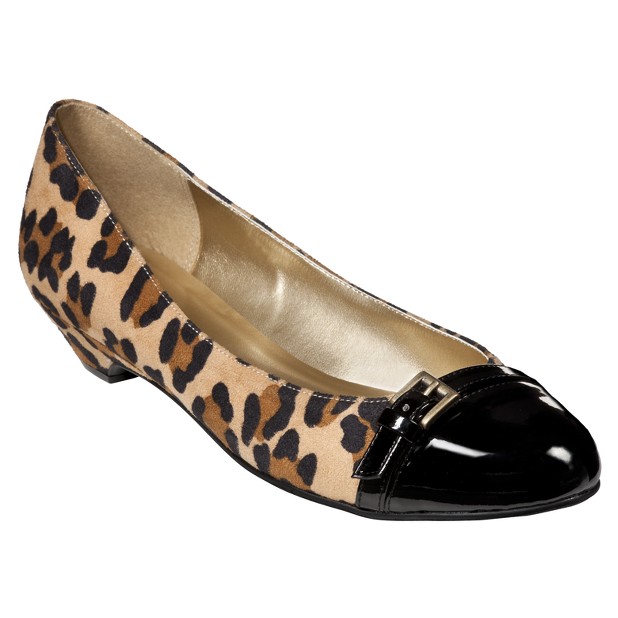 Happy Hump Day everyone!