I love a good bargain, and I have found a few things this Spring already that I think are a good deal and will be getting lots of use through Summer! And a few things here that are on my radar as well : )
I have a hard time finding blouses that fit well, it seems everyone is making these big floaty styles and those just don't work that well for me. But I found these at Old Navy that I love! They have a nice shape to them while still being relaxed, and look super cute with the sleeves rolled up. Currently on sale for just $15.90
I love Target shoes, I really do. I have currently been wearing my grey and nude pumps from Target to death, so am picking these up as well.
Women's Mossimo® Pearce Kaleidescope Print Pumps- Papaya – $29.99
Women's Xhilaration® Tempie Crochet Wedge Sandals – Black – $24.99
New York & Co is having 50% off of everything right now, through April 2nd, that is a great deal! I love these pencil skirts for just $19.99.
Swimsuit season and vacations are coming soon – I got one of these at my shower and love it, the fit is great and they are onsale now for just $33 at Victoria's Secret
Also loving this sequin trim canvas tote from Old Navy, comes in black and white, great for the weekend walking around or taking to the beach or park! Just $14.50.
This shirt dress is so cute and on sale at Macy's for just $29.99
http://www1.macys.com/catalog/product/index.ognc?ID=540423&CategoryID=5449#fn=sp%3D1%26spc%3D934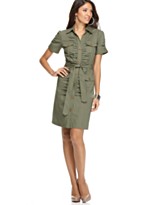 And who doesn't love a great Nordie's deal – a floral Spring cardigan is a grea addition to any wardrobe – on sale for $34.90
http://shop.nordstrom.com/s/halogen-floral-cardigan/3179910?origin=category&resultback=204
Any bargain shopping you want to share with us?